April Update on the OPIPP
Five child care programs have been selected through a competitive request for proposals to participate in our second year of Outdoor Play Interventions, a program focusing on increasing play value with small investments, volunteers, and thoughtful design. Site visits are currently underway with the design team and ideas are starting to flow. We are excited to introduce the following participants at their "before" stage and hope you continue to follow the project throughout the year:
Connecting for Children and Families (CCF) – Bulldog Park
Utilized by their school age program, this Woonsocket based center will look to add loose parts and much needed storage to a completely open and empty community space, which once housed a traditional playground structure.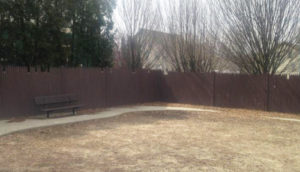 Over the Rainbow Learning Center – Johnston
This center, located in Johnston, has already gone through an intensive playground planning period, and even made major modifications to the preschool playground. Having just stopped short of implementing the design plan on the infant and toddler side, they are hoping to add some high-quality components dedicated to art, sand and water play.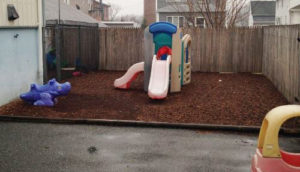 The Genesis Center
With the desire to remove outdated play structures and rectify hazards, this Providence-based center is looking to include more nature-based activities and loose parts, and also utilize the existing chain link fence as a base for art easels and other play activities.
Y's Owl Nursery School – Kent County YMCA
This Warwick center is hoping to utilize its amazing surroundings to inspire a more natural play space. Removal of plastic components and inclusion of a mud kitchen, outdoor classroom, and space for quiet play will incorporate all the benefits of this grand outdoor space.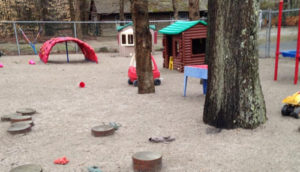 Federal Hill House
Located right in the heart of Providence, this center is looking to add more privacy, natural elements, and create an engaging outdoor classroom through many opportunities for stimulating and dynamic play.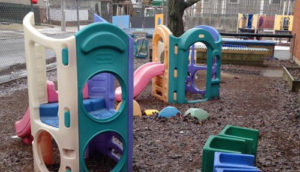 While these sites are very unique they share equally in their desire and potential to offer more valuable play opportunities for Rhode Island's children. We appreciate their enthusiastic commitment and we hope as this project continues you are also inspired to make some quality changes to your space!